History of the Smoky Hill Trail
The Colorado gold rush of 1859 resulted in the establishment of the Smoky Hill Trail. It was the shortest route to the Colorado "gold" from the Missouri River. Longer routes included the Oregon Trail which cut through the very northeastern tip of Colorado and the Santa Fe Trail which cut through the very southeastern tip of Colorado. The Smoky Hill Trail headed directly toward the Denver area. Eventually, there were three main branches of this trail.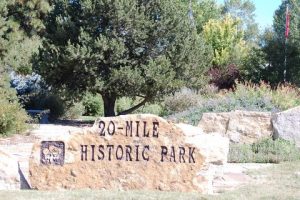 For several years, the Smoky Hill Trail was a route for gold seekers, wagon trains carrying freight, immigrants seeking a new life, stage coach lines; for a limited time, it supported the Pony Express mail service.
Mile houses were located along the Cherokee/Smoky Hill Trail leading to Denver. 
Three of these mile houses remain:
• The 20 Mile House Historic Park in Parker
• 17 Mile House Farm Park, located north of Parker, along Parker Road
• Four Mile House in Denver, along Parker Road-Leetsdale Road in Glendale
In July 2001, the 17 Mile House Farm Park along with 32 surrounding acres in Parker joined the 20 Mile House Historic Park and the Four Mile House as historic landmarks to be preserved forever.
History of the Smoky Hill Trail Marker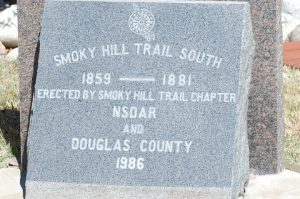 Because of her interest in preserving historical landmarks, past Smoky Hill Trail Chapter Regent Hildegarde McLaughlin proposed marking the southern route of the Smoky Hill Trail where it entered Douglas County.
In July 1985, a request was made to the Douglas County Board of Commissioners for authorization and contributions to install a granite marker in the triangle formed by the intersection of Flintwood Road and Hilltop Road. Permission was also granted by the NSDAR Historian General. By September 1985, monetary and engineering assistance was also granted by Douglas County. On August 1, 1986, Colorado Day, the long awaited dedication of the Smoky Hill Trail marker to the citizens of Douglas County became a reality.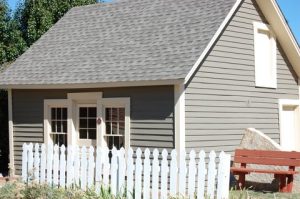 Unfortunately, eleven years after its installation, on November 24, 1997, Douglas County was forced to remove the marker in order to realign Hilltop and Flintwood Roads to improve safety at that intersection. The marker was stored for safekeeping by Douglas County in Castle Rock with the agreement that the county would place it at the 20 Mile House Historic Park in Parker upon completion of the site. In August 2001, the marker was moved to its permanent home, the site where the Smoky Hill Trail and the Cherokee Trail intersected at the Parker 20 Mile House over 150 years ago. The marker sits in a prominent location at the entrance to the restored, original, one-room Pine Grove Post Office, surrounded by beautifully landscaped grounds.